Obtain a visa and residence card for your studies in France
Before your departure:
The entries and residence conditions for long stay in France are subject to regulation and different from those of a tourist visit. In about 30 countries, the request and issuance procedure for a "student" visa has been modified. It is compulsory anywhere it exists.
Citizens of the European Union and European Economic Area are free to enter and remain in France without restriction: they do not need to obtain a visa before entering France.
However, visitors from other countries must have a visa to enter France.
Visa types:
There are different types of visas to meet the different needs of international students. Consulates are in charge of processing visa requests in accordance with current laws and regulations. There are short and long-term student visas. For more information, please consult the list of France's embassies and consulates abroad.
Mandatory online visa-application procedure:
Just like registration in higher education institutions, the online procedure to obtain a visa is compulsory for nationals of the following countries:
Prospective students from the countries listed below must apply for their visa online as part of the process of applying for admission to an institution of higher education in France:
Algérie
Argentine
Bénin
Brésil
Cameroun
Canada
Chili
Chine
Colombie
Congo Brazzaville
Corée
Côte d'Ivoire
États-Unis
Gabon
Guinée
Ile Maurice
Inde
Japon
Liban
Madagascar
Mali
Maroc
Mexique
Russie
Sénégal
Taiwan
Tunisie
Turquie
Vietnam
Long-stay student visa- Residency permit (VLS TS):
This new visa is designed for foreign students (graduate scholars and scientists are not eligible) who intend to study in a public or private institution of higher education in France for more than six months.
This visa also serves as a residency permit; since 2009, holders of this type of visa are no longer required to visit the local prefecture of police to obtain a renewable residency permit.
Nevertheless, they must send the following documents to the OFII (the French office for immigration and integration) by registered mail, with aknowledgement of receipt (Lettre recommandée avec accusé de réception ):
1. The OFII certification request form, stamped and delivered by the same office that granted the visa
2. A copy of the passport pages bearing their personal data and the official stamp certifying entry into France or another country of the Schengen area.
The OFII will then schedule a medical examination and possibly an orientation session. A fee of €60 will be charged in all cases.


Once you arrive in France:
Students will have to fulfil the following requirements, according to their nationality: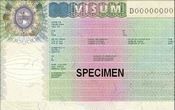 For European Union nationals:
Unemployed young researchers: no procedure needed.
Young researchers with employment: since 1 July 2008 only Romanians and Bulgarians who don't have a French master's degree are to request a residency visa for a temporary work. The period of validity will correspond to the duration of the labor contract. No procedure is needed for other cases.
For nationals of a country outside the European Union:
Students who have entered France with a long-stay visa equivalent to a residence permit must validate their VLS online.
Young researchers with a student visa (CESEDA L313-7) need to request a student residency card (at the Agora office from September till December or at the prefecture apart from this period). A medical examination hqs to be carried out at the OFII.
Young researchers with a scientific visa (CESEDA L313-8) need to request a scientific residency card at the prefecture. A medical examination has to be carried out at the OFII. Your employer will have to pay the required fees.